Most people are asking for goods at home instead of going to crowded places.
Grossery goods, vegetable and daily used goods demand more.
Corona virus / COVID 19 caused chaos all over the world. Its widespread impact is visible in India too. Many states of the country have closed schools-colleges, malls, cinema halls due to fear of corona virus. Also, people are being advised to avoid going to crowded places. This is why people prefer to stay in homes. E-commerce companies are benefiting from this. Sales of e-commerce companies have increased by more than 30 per cent in the last 15 days.
Online demand for groceries, vegetables and daily use items increased
People are avoiding going to places like malls and supermarkets after the corona virus cases have increased. Instead, people are giving priority to ordering goods at home through online. A Business Standard report quoting an executive of the e-commerce industry said that 20 to 30 per cent of the turnover of e-commerce companies like Flipkart, Amazon, BigBasket and Grophers last 15 days after the corona virus cases increased. The increase has been recorded. In the last 15 days, the number of goods which have registered an increase in demand, the number of groceries, vegetables and daily household items is more. Executives say that many big companies have asked their employees to work from home. Due to this, the number of people ordering goods online has increased.
Number of new customers also increased
Vipul Parekh, founder of online food grocery store Big Basket, says that the number of orders this month has seen an increase compared to last month and we have an increase in the number of orders by 25 to 30 per cent. According to Parekh, people are avoiding going to physical stores and shopping online amid conditions created due to corona virus. Due to this, the number of new customers on the online platform is also increasing. Apart from this, old customers are also shopping more to avoid the corona virus. The report quoted experts as saying that the trend started in China after the corona virus was exposed and people preferred online shopping.
The demand for sanitizer and handvoss increased manifold
Online platform Snapdeal says that it has a significant increase in demand in all categories. Snapdeal says that demand for hosiery products such as sanitizer and handwoss has increased 25-fold over the past five days on its platform. Snapdeal says that the day the first corona virus affected patient was confirmed in India, 50 percent of his masks were sold. According to Snapdeal, the demand for 4G routers is also seen to increase significantly due to working from home.
Ola-Uber business down by 50%
While the sales of e-commerce companies are registering an increase due to Corona virus, the business of app-based taxi service companies Ola and Uber has registered a decline of up to 50 percent. The reason for this is that there has been a decrease in the number of employees going to office in most metro cities. A source associated with the industry says that people have developed a perception that international passengers travel more in a taxi, so people are avoiding traveling in a taxi keeping hygiene in mind.
eCommerce Effects on eCommerce industries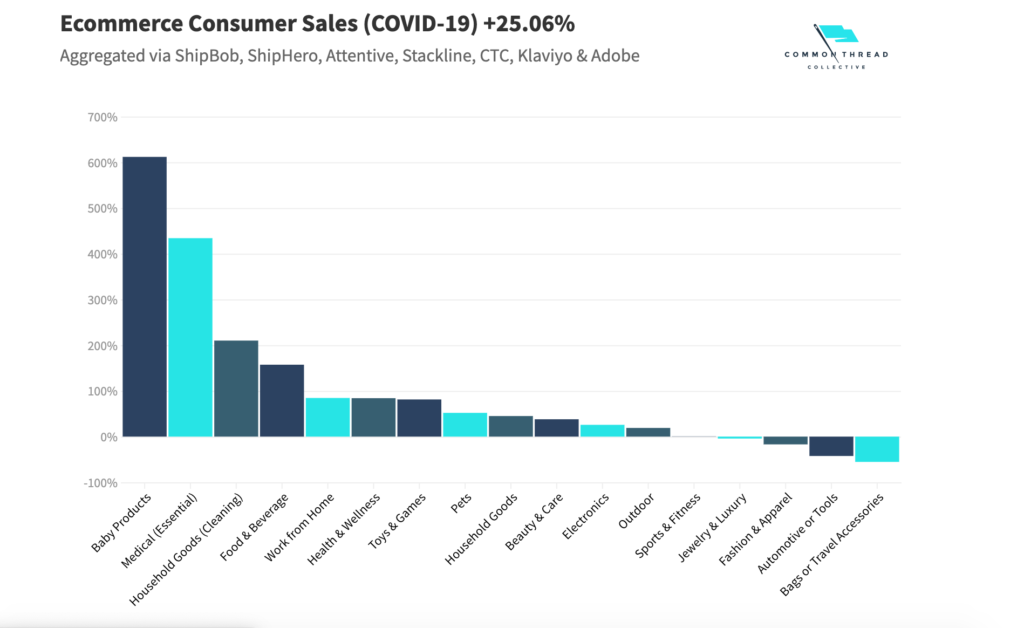 So, here as per the graphs we can see there are huge ups and down on various industries which have been affected by COVID 19